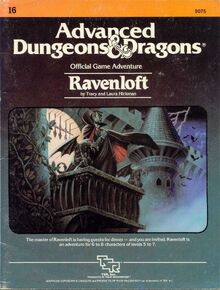 I6-Ravenloft is the first adventure in the Ravenloft setting.
The characters are drawn into Barovia and must defeat Strahd to protect Ireena Kolyana from his clutches.
Strahd Von Zarovich- the main antagonist and darklord of Barovia
Ismark- the adoptive brother of Ireena - He will recruit the characters to protect her.
Madam Eva- the leader of the Vistani - She will conduct the Tarokka reading.
Ireena Kolyana- the girl who Strahd wants to capture
Lief Lipsige- Strahd's accountant
Cyrus Belview- Strahd's servant